LISSA, acronym of LIfe Support Simulation Activities, is a serious game developed at the Graphics and Imaging Laboratory of the University of Girona in collaboration with health care professionals
Personalized life support courses
LISSA simplifies your course design process, allowing you to maintain control over your classes and students. It provides a set of e-learning functionalities to enhance and automate your day-to-day teaching experience, while affording you maximum flexibility and working to further guide your students to success. LISSA can be used to train any type of public, including experts and laypersons.

Customized scenarios
LISSA presents an emergency situation in a 3D virtual environment. The student has to solve the emergency by applying the correct protocol. Our system automatically evaluates all student actions and returns a performance report to follow-up and check-on student progress. We are able to reproduce any type of 3D scenario and emergency to adapt our clients' needs.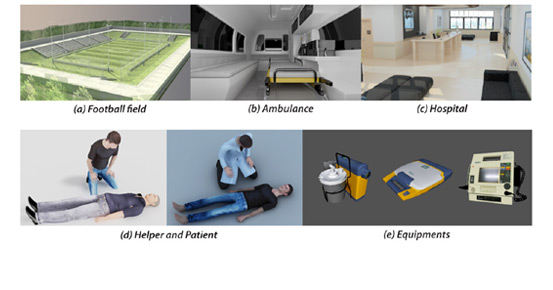 User-friendly environment
All LISSA interfaces and menus have been designed to provide a user-friendly environment. In few seconds course users will become familiar with all the main functions of the program.

Technical features
LISSA supports different languages (english, spanish and catalan) and it can be easy adapted to any other. It is multiplatform and available for Windows and MacOS. It can be integrated with other learning management systems such as Moodle.